27 Sep

COVR Cofounder credited on College Game Day for McKenzie Milton's return to football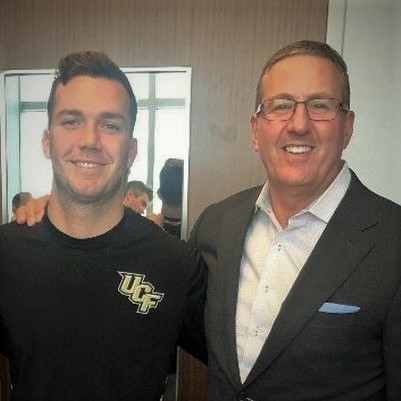 COVR cofounder, Dr. Bruce Levy, was featured on ESPN's College Gameday and other media coverage, such as the Orlando Sentinel, for his role in the return of college football QB McKenzie Milton since suffering a catastrophic knee injury in 2018.
According to the Sentinel,
"Levy arranged three surgical teams: one to handle the vascular side of things, one to repair the ligaments and then one team to reconstruct Milton's, including repairing nerve damage. For more than seven hours, Levy and his surgical teams worked tirelessly on the right knee of Milton.
Surgeons crafted a vein graft to create a new artery to provide blood flow to the leg using a piece of vein from the other side. Then the surgical teams were able to rebuild the ligaments around the knee joint, and then finally Levy had to reconstruct the knee."
In addition to crediting team doctor, Dr. Mike Jablonski, and athletic trainer, Mary Vander Heiden, who were able to assess the injury and transport McKenzie to the hospital, Dr. Levy told Milton that his priorities were to safely operate on the limb so that he could keep the leg and then to stabilize it so that hopefully he can walk again without pain. "Anything above that is unknown and in God's hands." 
Despite the odds, Milton played college football on 9/04/2021 against Notre Dame and was extremely effective in a come-from-behind effort.
In the course of his recovery, Milton and Dr. Levy have formed a close friendship and their families have grown close as well.